This week, 30 members of the SOB Alliance responded to the poll. They are:
NixGuy
Made for the Internet
Lincoln Logs
BizzyBlog
Newshound
VikingSpirit
Conservative Culture
Pullins Report
Blackswamp Conservative
Eye Hacker Blog
Conservative Culture
Rose by Any Other Name
Project Logic
Jaob's Blog
Brad's Journal
Return of the Conservatives
OhioGuy
Gribbit's Word
Andy's Angle
Boring Made Dull
FUS Conservatives
Thurber's Thoughts
LargeBill Pontificates
Steve the Pirate
Right on the Right
Ohio Conservative
Conservatoriam
Chuckoblog
The Redhawk Review
Pro Ecclesia
If a blog was mentioned twice, it's a multi-blogger blog and we got responses from "both" bloggers.
Some of the data collected in this week's poll was used in the Painting the Map Red post.
The "real" questions in this weeks post had some interesting results as well.
QUESTION ONE
: Guiliani vs. McCain
Guiliani 20
McCain 5
Neither 4
No Answer 1
COMMENTS: Rudy has always been a favorite of the Buckeye blogosphere. No surprise in this one...
QUESTION TWO
: Romney vs. Allen
Romney 7
Allen 18
No Answer 4
Neither 1
COMMENTS: I wasn't real sure which way this one was going to go, but we have a clear favorite here in the Buckeye blogosphere...
QUESTION THREE
: Blackwell vs. Kasich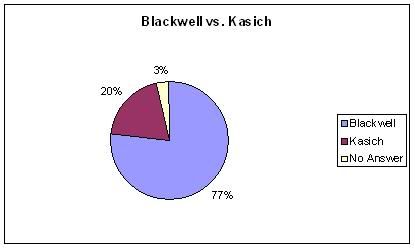 Blackwell 23
Kasich 6
No Answer 1
COMMENTS: This one wasn't so much about a race that is ongoing but rather about how much weight Kasich actually has... I think if he starts working relatively soon he could be ready for the next election cycle if Strickland wins. The question is whether or not that is a good thing or not...
Next Week's Poll
: Anything goes... I've got a few more "housecleaning" issues to shore up (I want to make sure that the Congressional districts data that I have assumed is correct, for one.) and I'm sure we'll have some more match-ups... Plus, whatever else comes up between now and Wednesday...